Welcome to our new blog! I hope that over time we can build this into a great avenue of communication between the staff here at Blankstyle.com and our end users. As the lead developer here at Blankstyle.com I am required not only to have an understanding of web development, marketing, and sales, but also of what customers want, need, and expect from our website. Our hope is that this blog will open up another way for us to get to know and understand our customer's needs that much better.
New Browsing Enhancements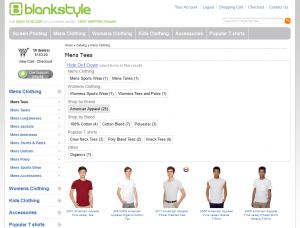 This month we've rolled out several exciting new changes to our browsing experience. We have a new "drill down" feature that allows you to easily filter a category based on any given criteria, including brand and even the blend of shirt. Hopefully this will allow for a more exploratory browsing experience and will serve those of you who aren't already decided on the garments they're looking to purchase.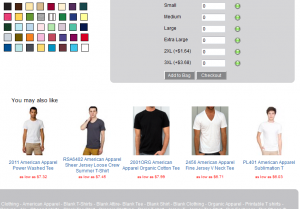 Another exciting change has been the new related product section you'll find at the bottom of all our product pages. The product selection changes dynamically depending on the product you are currently examining, and displays a small thumbnail with the price. This feature was intended as a resource when a particular shirt you may have set your eyes on has a stock issue or if you simply need to find a more cost effective or higher quality option. We'll be working in the coming weeks to refine this feature and make the results continuously more accurate.
New lines from Alternative Apparel and American Apparel, and our other brands
Having the latest product selections is of course, a big deal in this business. We've rolled out all the latest colors and styles for Alternative Apparel, American Apparel, Hanes, Gildan, Alstyle, and several others. We are doing large updates to our color selection and garment selection over the coming weeks, so be on the lookout for new colors and style options from your favorite brands. If you know of a style or brand you'd like us to carry feel free to weigh in either through the blog comments here, our contact form on the website, or  through our Facebook page.