You have a brand. You need custom shirt tags. When it comes to creating your own clothing line, finding the right type of tag can be a long process. Adding a personalized printed label on the inside neck of your tees is the hottest trend in retail, and luckily it's a cheap alternative to sewn-in tags, woven labels, and hang tags! There are many reasons why creating your own custom printed tagless label can be the perfect option for your apparel brand. Removing the original manufacturer tags and replacing them with your own one-color print design is an awesome way to really show up the competition and make your t-shirts look as professional as possible.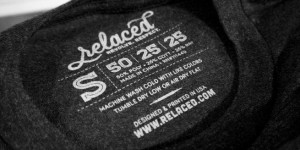 Why should I print my t shirt label instead of using sewn in woven tags?
Branding your garments will show customers that your line is the real deal, while also providing a more comfortable wear. We've all been there—when you're wearing a new t-shirt for the first time, and next thing you know that itchy, scratchy tag is totally throwing off your whole day! That's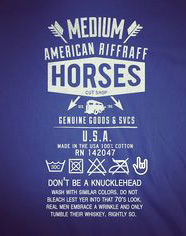 never the impression you want to make. With a printed label, your customers won't ever have to fuss and fight. And with a bigger surface area than standard woven tags, you'll have more freedom to really use the label as branding opportunity. Screen-printed custom shirt tags offer more room for artistic design that will have a presence on the garment—catching the eye of shoppers and leaving an impression about the identity of your brand. Custom garment labels also help to keep your t shirt line cohesive across different items, styles and colors. There's no better way to legitimize your line and keep up with big brand names than to order your own custom screen printed labels!
What do I need to include on my custom neck label?

Okay, so where do you start? The first thing you'll want to include in your custom shirt tags is the legally-mandated information regarding country of origin, fabric content, care instructions and size of the blank shirts you're using. In the US, the Federal Trade Commission (FTC) requires that this information be included on all clothing before it is sold. Because of this, the shirts that you choose will already have a tag which will need to be removed. Visit the FTC website if you'd like to learn more about these labeling requirements! When choosing your t-shirts, you'll need to make sure that the shirts have either sewn-in tags or a tear-away tag—not a printed or heat-sealed label. In order to print your label, we'll need a clean surface!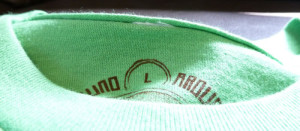 How do you remove the existing garment tags?

Removing the manufacturer tags is no problem for us—we offer this service at no additional cost! Tees that feature tear-away or "paper" tags are the best option for achieving the cleanest finish, since these were created especially for this purpose. Brands like Next Level, Delta Apparel, Anvil and Tultex offer various tees with this kind of label—making removal quick and clean.
Sewn-in tags are also easy to remove—we simply snip off the tag as close to the seam as possible. Depending on the type of shirt, some tags are a little more difficult to remove entirely. Small amounts of leftover material, referred to as "residue," should be expected when looking closely, but generally shouldn't be visible when the collar is lying flat.
How do I start designing my custom shirt tags?
Once we've got the tags removed we're all set to print your inside neck labels! When designing, there are a few things to consider. In order to create the most lightweight print with a barely-there feel, you'll want to incorporate a lot of negative space into your design—meaning that you don't want too many large, filled-in spaces. Think outlines and light fonts. Remember: the
more ink there is in your print, the more you will feel it!  Besides, you don't want your label to distract from the rest of your shirt!
When it comes to printing dark colors onto light colored tees, it's possible that your print may show through the back of the shirt a little bit, depending on the weight and fabric content. This is another one of those anomalies that is unfortunately unavoidable with screen printing. Generally speaking, using heavier weight tees and lighter colored ink will help to avoid this. Also, be advised that you'll be able to feel the print a little more on darker-colored shirts than you will on lighter-colored shirts. This is because 2 layers of ink will be needed when printing onto dark fabric. If you have any concerns, speak with one of our representatives prior to ordering and we can go over t-shirt options!