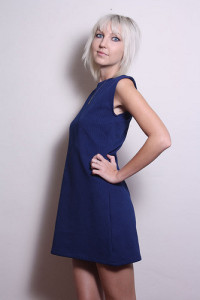 In a past blog post, I described and looked at bohemian fashion. Today, I will be look at another fashion trend, the Mod subculture and their fashion style. This style features form-fitting clothes, unisex styles for men and women, as well as bold patterns and colors.
Mod is actually a subculture that appeared in the 1960s. This subculture focused mostly on music and fashion. Some famous people who helped inspired the fashion sense of this subculture were the Beatles, and fashion icon Twiggy. Twiggy actually talked about mod fashion on an episode America's Next Top Model when she was still a judge on the panel.
Colors and Patterns
Mod clothing was clean and often bold. The most common colors used were black and white, and you would see hints of oranges, bright yellows, pink and the occasional pastel. Color blocking became very popular as well, which is a trend that is becoming popular again in today's fashion. Color blocking is a technique where differed colored blocks of fabric are sewn together to create a garment with different solid colors. Mod fashion also allowed for the use of bold patterns. In England some of the popular geometric patterns were the English flag, stripes and polka-dots.
Women's Styles
For women, this was the age of the mini-skirt. Women would wear mini-skirts and short dressed to expose as much of their legs as their individual body shaped allowed them. For ladies who preferred pants or a more androgynous style, they wore fitted pants that were typically capri or ankle length. For tops, ¾ sleeves and sleeveless were popular amongst women. Another big fashion statement was a loose sweater. Women preferred flat shoes, and an iconic shoe of this style is the Go-Go boot.
When it comes to make-up, the trend was to make your eyes look bigger with a heavy use of eyeliner, false lashes and possibly brown eye-shadow. This was about it for make-up. The mod ladies most every other type of make-up except a nude colored lip stick. For hair, short cuts that were low maintenance were the style, though hair was often styled with scarves and headbands.
Men's Style
Men often wore well-made, slim cut, tailored suits to wear. These suits came in your basic black, gray, and brown but you could also see them in more fun, bold colors. Other popular trends were thin ties, button-down collared shirts, and interesting variety of boots, and jumpers made from wool of cashmere. Also, jeans are a no-no for a mod look.
For hair, men would grow their hair out into a moptop. It wasn't long, but it was longer compared to other trends and styles for men. For a good example of mod hair, check out the hair styles worn by the members of the Beatles. Another mod trend is that some men, not all but some, used eye shadow, eye pencil and lipstick.
So, I looked at what mod fashion and style was when it first appeared in the 60s. Take this information and apply it to your current wardrobe, but with a more modern and fashionable twist. The main characteristics to hit if you want to dress with a more mod style today is to wear bold colors, geometric designs and have your clothing be more tailored.
Check out these resources to learn more about the mod style:
Wikipedia – Mod (Subculture): Fashion