When you decide to create a t shirt with a custom design, there are two different printing options for your t shirt, screen printing and digital printing. This blog post will help you determine which method would be best for your design.
Screen Printing
What Is Screen Printing?
Screen printing is the more common method of printing designs on various apparel.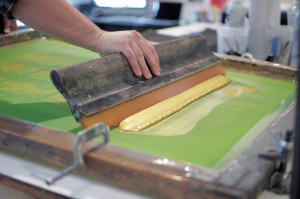 The screen printing process uses woven mesh and ink-blocking stencils to create the design. The stencil for one color is placed on the mesh and then ink is moved across the stencil, forcing ink only through the opening in the stencil. Once one color is complete they repeat with another color and another stencil until the design is complete.
Pros of Screen Printing
-This technique is more cost effective, especially with larger orders
-Creates a high quality print
-Prints are long lasting
-Can be used on items with unique shapes or on specific areas of an item of clothing
-Looks professionally
Cons of Screen Printing
-Cannot produce high resolution details, like from photographs
-May have color limits
Digital Printing
What is Digital Printing?
In digital printing, the printing process uses a printer head to apply ink directly onto your clothing or other various apparel. It works the same as your paper printer at home, only this printer is designed to print on fabric.
Pros of Digital Printing
-Great for small orders
-Can show the finer details of photos
-Soft to the touch
-Design lays flat
Cons of Digital Printing

-Exact color matching not guaranteed
-Printing area size is limited to size of the printer or it's set-up
-Large orders can be less cost efficient
-Printer specific ink can be more expensive
I hope this helps you determine which method would best fit your printing needs. Until next time!