After getting fired from job working for pizza restaurant, Greg Alterman racked his brain to think of a way to make money. He was still in college, so he needed something that wouldn't take too much time away from studies. He had an idea for an alternative version of the smiley face T-shirt–one with long hair, sunglasses, peace signs. Greg printed 72 of these shirts and sold all of them in one day. His shirt business was an instant success. He printed more t-shirts and began selling them around campus. After a minor fine or two, Greg quickly figured out the business and got the necessary license to begin producing a line of University of Florida products. By the time he graduated from college, he had a full-fledged business with eight employees.
Post-college, Greg moved home to Atlanta and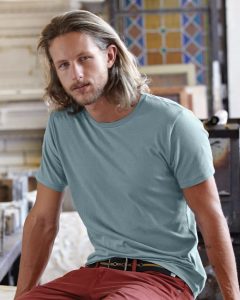 began manufacturing t-shirts for corporations using Hanes or Fruit of the Loom T-shirts. Unfortunately, Greg wished he could find a product with a fit similar to the thin, worn out '70s shirts that filled his closet. When he couldn't find those blanks on the market, he started manufacturing his own. He initially went to China, and through trial and error, found a factory that could make the kind of tee he was looking for. By the time, the 1996 Olympics came to Atlanta, Alterman was selling printed T-shirts and hats of his own designs. Other printers soon wanted in on his vintage-inspired t-shirts, and suddenly a new business opportunity presented its self. In 1996, Greg founded Alternative Apparel as a distribution company that would stock only high quality blank T-shirts.
It was a slow start–Alterman says that on some days, the phone wouldn't even ring. But by continuing to increase its offerings with thermals, hoodies, tank tops and even women's dress styles, Alternative's costumer base grew from simply selling blanks to embellishers, to catching the eye of retailers who wanted to stock their blanks for retail sale. Now, they even manufacture a popular blank hat line including styles such as the baseball cap, Fidel Cap and beanie.
Today, Alternative's design studio and flagship stores are in Los Angeles, California while the corporate headquarters are in Atlanta, Georgia. While the company continues to expanding into the retail market, they still offer that perfectly fitted blank T-shirt for custom printi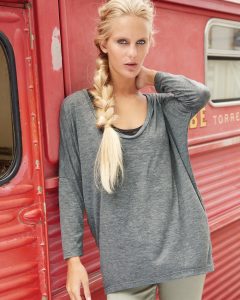 ng. In addition to this, they have many trendy variations that demonstrate that the Alternative brand will continue to push the fashion boundaries of the blank T-shirt industry–including the Burnout Baseball T, the Marathon Pullover, and the Destroyed-T.
In 2007, the company launched an eco-friendly lined called Alternative Earth. This line has the same vintage softness and fit that Alternative is known for but is manufactured using organic cotton, recycled polymers and low-impact dyes and softeners. A portion of the sales are even donated to a variety of environmental organizations. Some of the popular shirts include the EConscious heathered tees (styles EC3800 and EC1080) which are made from 60% organic cotton, and the AA1932 Boss V-neck tees made with low-impact dyes
Blankstyle.com sells a wide selection of Alternative Apparel and has the best price on the web! Going the extra mile to provide the highest quality in production and design for premium blank t-shirts is what has set Alternative Apparel apart from the rest!