Grounded in the surf/skate culture, Burnside designs classic apparel with the latest fashion trends in mind to reflect an easy-going and dynamic lifestyle. From authentic board shorts, to flannels, t-shirts, fleece and outerwear, Burnside clothing suits both the active surf/skate enthusiast and those who just want to live easy in comfortable clothing. For nearly 20 years they've been providing consumers with practical and contemporary clothes that they truly want to wear. The core inspiration for their products stems from the customers themselves–taking all of their needs into consideration while adapting to the ever-changing image of today's apparel.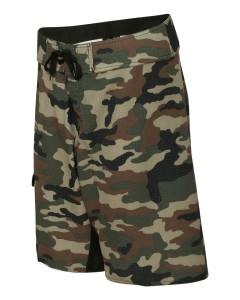 Burnside is starting off this season with a bang, offering the perfect mix of sunny-day fits and spring gear that's ready to take on the chilly days too! Check out a sampling of what this brand has to offer:
The Burnside B9371 Camo-Diamond Boardshort puts a trendy spin on a classic style. The CAMO trend is hotter than ever! These authentic board shorts come in black camo or green camo, and are made with attention to detail. They're lightweight and comfortable with a drawstring closure, spandex fly and an inset front patch pocket on the thigh.
Logos look great on plaid shirts like the B9202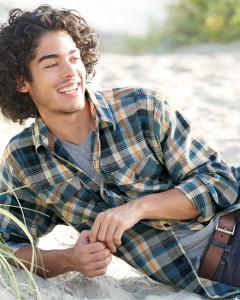 plaid button-up and the B8210 super soft flannel (click on picture for the product page). It's a comfortable and trendy staple that's great as a uniform shirt for a bar, grill or restaurant. The flannel is lightweight, breathable and soft. It has two chest pockets with button-down flaps, a half back yoke and adjustable cuffs. The B9202 button up is a cotton/poly blend, which has a great feel and fit. It's also available with long sleeves. Burnside also offers solid button down shirts, like the B9259 Stretch-Stripe Short Sleeve and the B9265 Dobby-Stripe–perfect for dressing up or dressing down.
The B8127 Yarn-Dyed Raglan is a t-shirt with the look of fleece. The striped sleeves set this hoodie apart from other lightweight pullover styles,-offering the ultimate in casual style and comfort. It's made of 4.9 oz cotton/poly jersey and is the perfect grab-n-go pullover for the spring and summer months.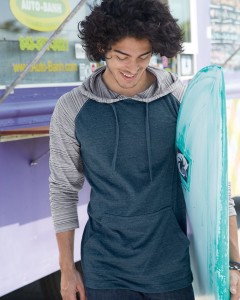 The B8701 faux-vest offers the layered look with ease and practicality. It's a nylon vest with fleece sleeves and a hood. The lining is camo, which adds a nice pop of contrast to the colorblocked appearance. This piece looks great embellished with a logo, and men love to wear this style! It's perfect for those chilly, rainy days when you need just the right amount of protection from the elements.
With their roots dug deep into the retail market for over 15 years, Burnside is one of the most trusted and reliable brands in the wholesale sector for appropriately-priced wovens, bottoms, outerwear and knits. Available for retail sale at industry giants like JC Penny and Sears, they have gained a following and continue to make a splash in the wholesale sector. Checkout Blankstyle's full selection of Burnside clothing!