Sublimation Apparel printing:
Just when think you've covered all your printing bases — screenprinting, DTG — someone asks you about sublimation apparel printing. You might not know what it's called, but you can't walk into a retailer without seeing an example of it. It's a printing method that provides all-over coverage, in full color.
In a nutshell, sublimation printing uses heat to transfer the dyes onto the fabrics. There are two ways to do this: one is to print onto a transfer paper and then transfer the image to the fabric using heat and pressure. The second involves printing the image directly onto the fabric. But either way, you're looking at transferring the dyes into the polyester molecules using a combination of time, temperature, and pressure. With dye sublimation, the result is a virtually permanent full-color high-resolution print that won't crack, fade or peel under normal conditions. If you're looking for color saturation, you're looking for dye sublimation printing.
Unlike screen printing, where one color is added at a time, with sublimation printing, all colors are printed at the same time so there's no risk of the colors not lining up or running. And as we may have mentioned, sublimation printing is the only way to go, if you're trying to get that all-over printed look.
Image above: Epson SureColor® F6070


Offset vs. Digital Sublimation Printing
There are two types of sublimation apparel printing: Offset and Digital. The differences between the two can be simplified to a single word: volume. Offset sublimation requires a pretty hefty investment – the machinery alone can cost up to $1 million and you're looking to do print runs of between 5,000 – 10,000. So if you don't have a cool million hanging around, and you're hoping for a print run under 500 pieces, then you're looking at digital sublimation, which will give the saturated all-over print look, without having to invest quite as much capital.
Image above: from Epson's Digital Sublimation fashion show

Image above: SubliVie 1910 Adult Polyester Sublimation T-Shirt is soft, lightweight, and is quite literally, made for sublimation.
While both DTG and digital sublimation use inkjet printer technology, the processes and results are quite different. The first big difference you'll notice between DTG and sublimation is going to be your garment choice. DTG is the choice for 100% cotton fabrics, while Sublimation only works on polyester garments (sublimation needs a polymer-based surface). Both processes will work on blended fabrics, but the result will be a little washed out and faded.
But that's only the beginning. The entire chemistry behind the two processes is different. I'll spare you the Chem 101, but basically, the DTG process is relying on surface adhesion, while with sublimation, there is actual molecular bonding taking place. (The dye actually begins as gas before becoming a solid!)
Sublimation Apparel Printing Perks

You can print a highly detailed photographic image on nearly any polyester fabric.
You can print on textiles prior to the assembly of the garment for all-over coverage
Many polyester fabrics provide moisture-wicking capabilities making your garment perfect for high-performance sports ware.
There is no feel, which makes for a soft hand.
Perfect for full-color design on light textiles
Extensive color options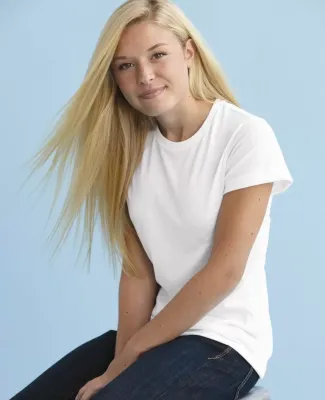 Image above: SubliVie L1610 Juniors Polyester Sublimation T-Shirt is perfect for sublimation apparel printing
When you're ready to take a leap into the world of sublimation apparel printing, check out our sublimation apparel category. If you don't see what you are looking for, let us know. And we'll help you get started on your sublimation journey!