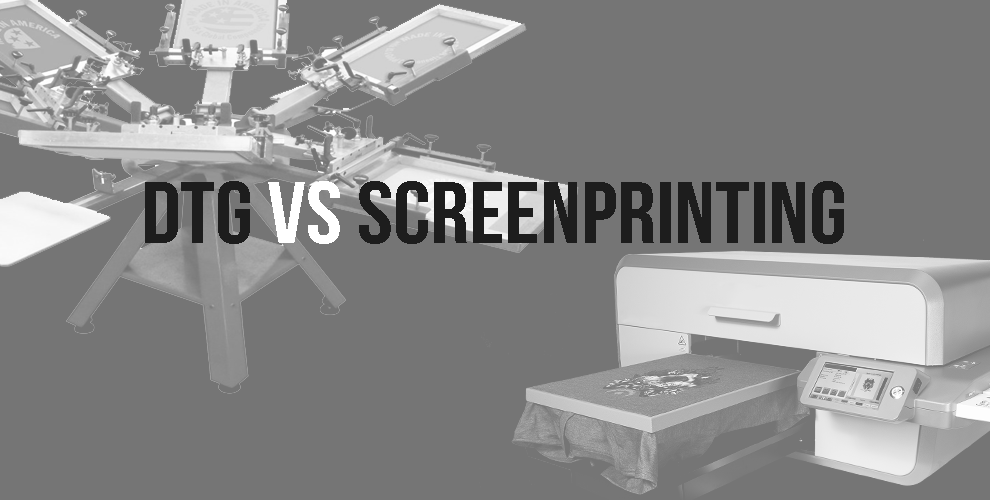 DTG Printing: The Future of printing?
You might be asking yourself, "what the heck even is a DTG?" DTG stands for Direct to Garment. In other words, a digital printer much like the one you have in your office, but bigger. Try and imagine if you will, a desktop printer that prints directly onto a t-shirt! Pretty cool huh? For the last 12 years, DTG printing has been the "the kid" on the block. Over the years, DTG technology has made great advances. Thus positioning itself as a top player in the garment decoration industry. DTG seems to be the newer hot printing process, however, each print method has its pros and cons. Join me while we discuss and finally discover: DTG vs Screen printing and which one is better!
In 1996, an engineer by the name Matt Rhome invented the DTG printer. However, the new print process would not catch much traction until Brother put out its own DTG printer in 2004. Big corporations such as Brother, Epson & Ricoh have thrown their hat into the DTG arena. The process of DTG entails loading a single t-shirt onto a platen or table and then sending a print job from a Rasterize Image Processing program. Once the DTG printer receives the print job, you press the PRINT button and you're off to the races. The size of the print and the settings used will dictate how long the print will take. Typically you can have a small print completed in 40 seconds or a big print completed in up to 2 and a half minutes.
Because the DTG t-shirt printing process is fully digital, this means you can print photographic images in less than a minute (if on a light t-shirt). Achieving the same effect through traditional screen printing would entail much more work (several screens/inks required). THIS is the beauty of DTG t-shirt printing; convenience and time saved (in some cases)
Pros of DTG:
Usually easy to get into business with a DTG machine as they are affordable to most business owners
You don't need a lot of space (basically a desktop machine)
Easy setup
Great for printing photographic images
DTG full color photo print of the Greatest and the King

Cons of DTG t-shirt printing:
Must print on 100% cotton fabric as waterbased inks will only adhere to natural fibers
Any image that includes white ink, the garment then MUST be pretreated with a special pretreatment liquid. This pretreat makes it so that the white ink bonds do your t-shirt. Without the pretreat, the white ink will just fall and bleed right into the shirt and the results will not be favorable.
If too much pretreat is applied to the shirt, this may cause staining to the garment. If too little pretreat is applied, the white ink will not adhere to the shirt and the print will be ruined.
When printing on dark shirts, it will first print a white layer of ink or "Underbase Layer" and then the color on top. This two-layer process, depending on the size of the image can take anywhere from 2 to 4 minutes per print (far exceeding the time it would have taken to screenprint in some cases)
Maintenance of the DTG machine is a huge factor when it comes to the print quality and life of the printer. Without proper maintenance, the DTG printer will yield poor print results (banded lines through print, missing color, fuzzy prints, print head clogs). Lack of maintenance could be a high cost in repair, should a print head or ink tub clog. DTG machines are a use it or lose it type of equipment in that if the machine is left sitting with ink in the system and not being used, the machine will most likely clog and will require time and money in repairs in most cases.
Screenprinting: A process tried and true
Screen printing, on the other hand, is as old as dirt! Not quite but almost! You might be surprised that the screen print process has been dated as far back as 960-1279 AD. This print method was used in China around the time of the Song Dynasty. Screen printing made it's way to the western world during the 18th century but did not become as popular in Europe until silk mesh easily accessible. Let us time travel to the present time where today we have screen printing very much dialed in with photo-reactive chemicals and equipment to make the process much easier.
With screen printing, 1 screen must be created per color within the graphic to be printed. So you'll find that screen printers tend to base pricing based on how many colors are within the image. If you have a great deal of color within your graphic, this could more than likely drive up the cost significantly. Because with screen printing plastisol ink is the main type of ink used, you can expect the life of the print to really go along way, decades even! The quality usually has a texture to it that you can definitely feel, and visually the quality is very favorable. Nice and solid!
While screen printing is a manual process of a squeegee pulling ink across mesh screen of negative space, these days, there are automatic presses that will do most of the work for you, which is a screen printer's dream! However one would still need to set up the t-shirts and create/set up the screens which do take some time. After screen setup, you're ready to rock and print very easily.
Pros of screen printing:
A tried and true process
Solid quality print that will last a very long time
You can print 1 color print lightning fast
Various types of plastisol ink can be used (glow, puff & metallic ink)
Metallic Silver screenprint plastisol ink
Cons of screen printing:
1 color per screen, multiple colors will result in higher price
Longer set up a time
Messy cleanup
Lots of expensive equipment needed
You must learn how to use all of the equipment
You need a lot of space for all of the equipment
So DTG vs Screenprinting, which one is better? This question actually cannot be definitively answered as both processes are great for different things! Instead of asking which print process is better, ask yourself, "which print process is best for this graphic?". If you have a photographic image with tons of color, this is not a graphic you will want to screenprint has you will need to generate many screens to even get close to an accurate depiction of what the actual image is. DTG would be a far greater option to consider for a very colorful image.
Now say you have a 1 color graphic on dark shirts, which print process would you choose?? If you answered "screenprinting" you are correct! Screen printing would be the preferred print method as you will easily be able to knock out the print job as fast as you can pull a squeegee across the screen.
Questions to ask yourself
While both print processes have their own pros and cons, as do most things in life, you want to look at your graphic/print job and ask yourself the following questions.
Is this a high quantity order
Does this have minimal color
Then it is probably a screenprint job.
Does this print job have a low qty
Is this graphic over 5 colors
Then you're most likely looking at a DTG job.
At any rate, you can always reach out to us at Blanskstyle.com to help steer you in the right direction should you have these questions regarding which print method would be best for your design or project. Once you submit a quote on Blankstyle we will review your print order and from there we will be better able to determine which print method would be the best to proceed with. We would be more than happy to help point you in the right direction.