Today's post is about what to do with your old, unwanted t shirts to make room for all the new shirts that you want to buy. When you need to get rid of your clothes there are many options available to recycle t shirts. You could find a new use for them, upcycle them into something new, or maybe even donate them.
Donations
If the old t shirts you want to get rid of are in good to great condition, then you may want to consider donating them. There are many organizations and charities that collect clothing to give to those who may not be able to afford new clothes, or maybe even unable to afford old clothes. Knowing that your donation is helping someone else, who otherwise may not have been able to get usable clothing, is a great feeling and I highly recommend this method of recycling t shirts.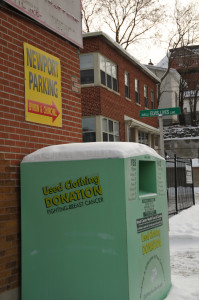 Here are some suggestions of places where you can donate:
Salvation Army for the USA Eastern Territory
Dress For Success: Support and Donate Clothing
Also, check your local area for people and places that are accepting clothing donations.
Upcycling
Upcycling is taking something you don't really want or need anymore and turning it into something else. I suggest upcycling for old t shirts that are in good condition that you just can't seem to give up. You don't need them anymore and you want to get rid of them, but there is some attachment or memory with the t shirt that prevents you from actually giving it up.
If you have a lot of t shirts that you can't give up, one suggestion is making a t shirt quilt. If you want to learn more about t shirt quilts check out my blog post titled How To Create T Shirt Quilts. You could also make pillows or even art work with your old t shirts. I've seen quite a few people who have folded, or cut the design out of, a t shirt, framed it and hung it on their walls. These are all great ways to preserve the memories that go along with a t shirt, without taking up all of your closet and drawer space.
Rags
For your t shirts that are not in good condition, full of rips and holes, covered in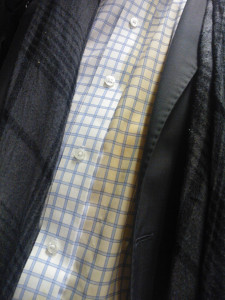 stains, and are just unusable and unwearable, there are not many t shirt recycling options available. When I have an item of clothing in very poor condition, it then becomes a rag. I use it to clean up messes, dry my car, my father uses them when changing the oil in my car, they are dirty rags. Since these rags are re-usable, it's a better option then using a bunch of paper towels that are going to be thrown away, less waste going into landfills is always a good option. Once my rags are just done though, that is when they go in the trash, which is the only other option for your unusable t shirts. If a shirt is unusable there is nothing that can really be done with them and they have to go.
I hope that this blog post helps you with your t shirt recycling needs. If there are any options I missed please let me know! I'm always interested in learning new things to do with my old clothes.