As most of you know, the American Apparel 2001 Fine Jersey T-Shirt is one of the most highly-ranked, best-selling blanks out there today. Its tubular design and unmatched array of color options (51 to be exact) make it a top choice for both screen printers and their customers alike. This 100% ring spun combed cotton, unisex tee is also made in the U.S. (as all American Apparel garments are), which has been an increasingly important selling point here in the states. The American Apparel name practically sells itself, globally; its controversial advertisements and patriotic mantra are recognized everywhere today, and t-shirt enthusiasts can't seem to get enough. However, many T-shirt connoisseurs have recently discovered a 2001 alternative—the Canvas 3001 Greenwich T-shirt.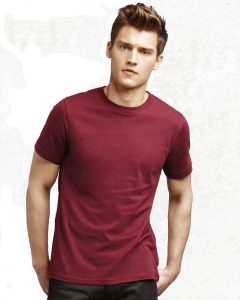 The 4.2 oz Canvas 3001 is a unisex tee available in 35 colors (including 3 new heathered options) and 8 sizes (XS-4XL). Aside from its larger run of size options,  Bella+Canvas prides itself on always using the finest combed and ring-spun cotton fabric to ensure a smooth knit consistency, and it shows in this t-shirt. The 3001 also has contoured side-seems and a double stitch sleeve and bottom hem. Although the 3001 is not advertised as made in the U.S., Canvas does offer a different version (3001U), which is manufactured here.
I can't really say which T-shirt is best, because it's more about finding which shirt is best for you and/or for your clients. Both shirts are a fashion-fit, ideal for screen printing, and are tailored for both men and women. The key points to keep in mind when deciding between them are as follows:
The 2001 does not have side seems, and the 3001 does.
The 3001 is available in sizes XS-4XL, and the 2001 sizes stop at 3XL.
The 2001 has a greater color selection, including 2 stripe patterns.
The 3001 prices at roughly 20% less than the 2001 for those on a tighter budget.
With that said, happy shopping!